"Help… My Windows 10 is broken. I can't boot Windows Boot Manager in Windows 10. I have no idea about the reason. Several days ago, it is okay to use, and now I find that I can't enter Windows Boot Manager in my Windows 10 computer. I have no idea about how to fix the issue. I want your help. Please give me some advice about how to fix it."
Windows Boot Manager is also named "bootmgr". When you start Windows 10 and the computer shows Windows Boot Manager interface with a black and white screen, how to fix boot manager Windows 10? Don't worry about it too much. We can use the Tenorshare Windows Boot Genius to fix it.
Tenorshare Windows Boot Genius is an all-in-one world-leading and we–designed Windows computer rescue toolkit. It contains 4 comprehensive tools, which are Windows Rescue, Password & Key Recovery, Data Recovery and Disk Tools. This wonderful software contains 27 specific functions for your Windows computer, include Dell, HP, Acer, ASUS, Lenovo, Toshiba, etc. This is able to help you solve most of the problems you may meet. In addition, each tool is equipped with various small functions in the light of true cases.
You can see how to use it to fix your Windows 10 can't boot issue as below:
Step 1: To begin with, download and install Windows Boot Genius from official website or other regular download websites to another accessible computer and then you will see the shortcut in the virtual desktop, just use your mouse and double clicks to open it.
Step 2: You will see the option about how to create bootable CD/DVD or USB drive. If you have a CD/DVD, use it. Otherwise, choose USB Flash drive. After that, click "Burn" button to burn a removal drive. Then close the software and insert the bootable drive to your original Windows 10 computer.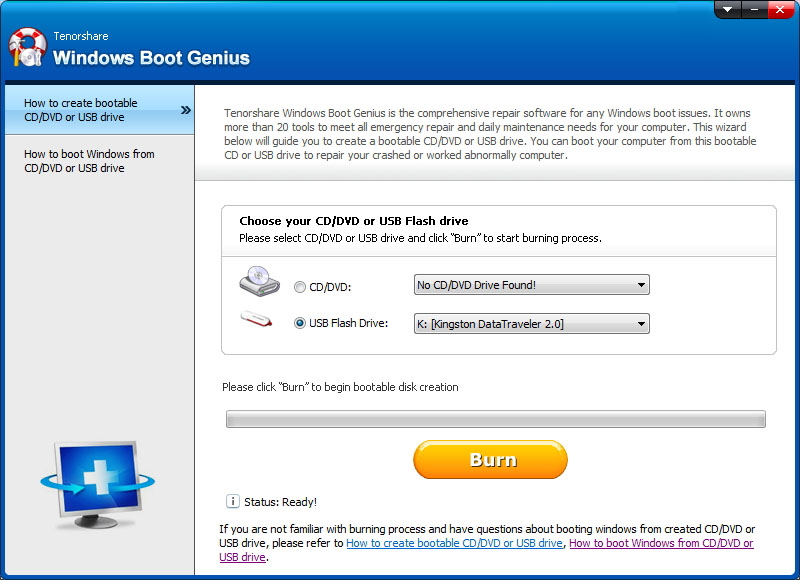 Step 3: Reboot your Windows 10 personal computer and then change the BIOS setting to boot from removal drive. Reboot it again. After a while, you will see the main interface of this software.
Step 4: Choose the "Windows Rescue" and go to the rescue part. This tool is able to fix all the Windows issue you may get when using Windows computer. In the left, you can see "Solution Center" and "Function Center".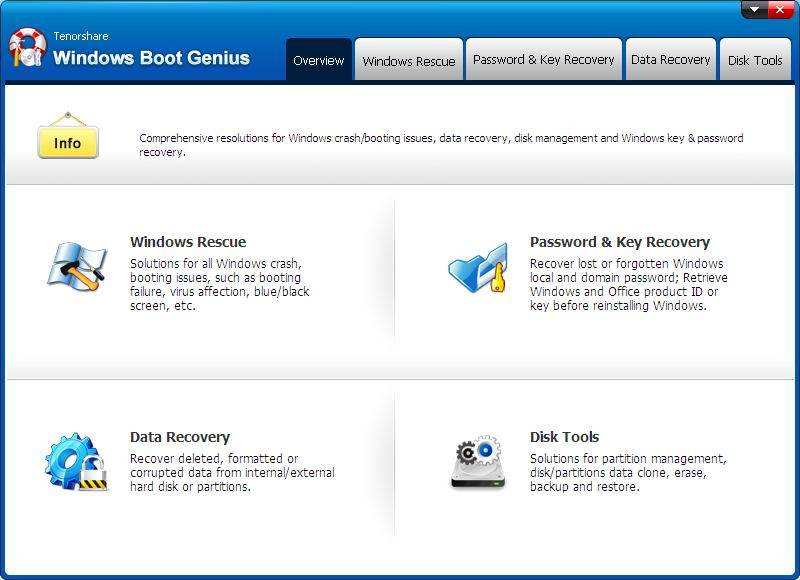 Note: Solution Center contains Crash before loading bar, Crash on loading bar, Crash after loading bar, Restore backup solution and Reinstall Windows System. Function Center contains Boot File Recovery, Boot Sector Recovery, MBR Recovery, Registry Editor , Registry Recovery, Windows Backup and Windows Restore.
Step 5: rom the Function Center, click the Boot Sector Recovery and then you can see the brief introduction and the Boot Sector Recovery button. Just click the button and then the boot issue will be fixed.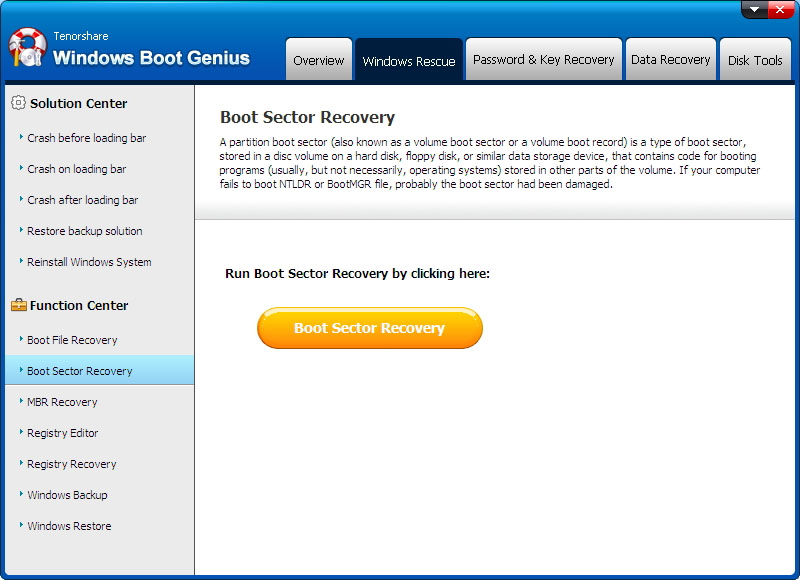 Well, that's all about how to fix boot manger issue in Windows 10 personal computer. In this method, actually you have to prepare 2 computers, one is another well-used, and the other is your Windows 10 machine. If there is no other computer around you, try to ask help from your friends or neighborhood. Good luck to you and hope you happy every day.