As Microsoft Windows 10 comes to our eyes, the old Windows OS(Windows 8.1, Windows 8, Windows 7, Windows XP) always get the hint to update their system to Windows 10. Some users are the Windows 7 or Windows 8 fan, so they can't agree with the update, they choose to ignore it. However, other Windows users would like to experience the newly Windows 10, so they update their computer to this new Windows operating system. To their surprise, their computer runs slowly after the upgrade. That's so unlucky!
At this time, if Windows 10 users would like to downgrade it to the older system, it will be so complicated and the worst condition is that they may lose data in the computer. Consequently, is there any way they can use to speed up Windows 10? Yes, God never shuts one door without opening another. Here in this article, we are going to talk about how to speed up Windows 10 after upgrade easily and quickly.
Windows 10 boots very slowly? Chances are you have run into a black screen with a cursor on Windows 10. It takes quite a bit of time for the desktop to appear. Though this is a very common issue, Microsoft is yet to acknowledge it as a known issue. Many threads at the Windows Insider Program forums, reported this issue, and the suggestions which Microsoft's employees offer to the affected users, do not offer a permanent solution.
Method 1: Speed up Windows 10 with Windows Care Genius
How to speed up slow Windows 10? We highly recommend Tenorshare Windows Care Genius software for you to use. This is a pointed program that is aim at Windows system running problem. It is a professional and formidable program that is used to optimize all Windows systems, just like your family doctor in PC. Make a long story short, you can see how to use it to speed up Windows 10 as below.
Step 1: Download and install Windows Care Genius to your slow Windows 10. Then double click to open this software. You will see the whole user interface of this tool.
Step 2: Choose the "System Tuneup" option and then select "Startup" menu. Then you will see so many junk files in your Windows 10.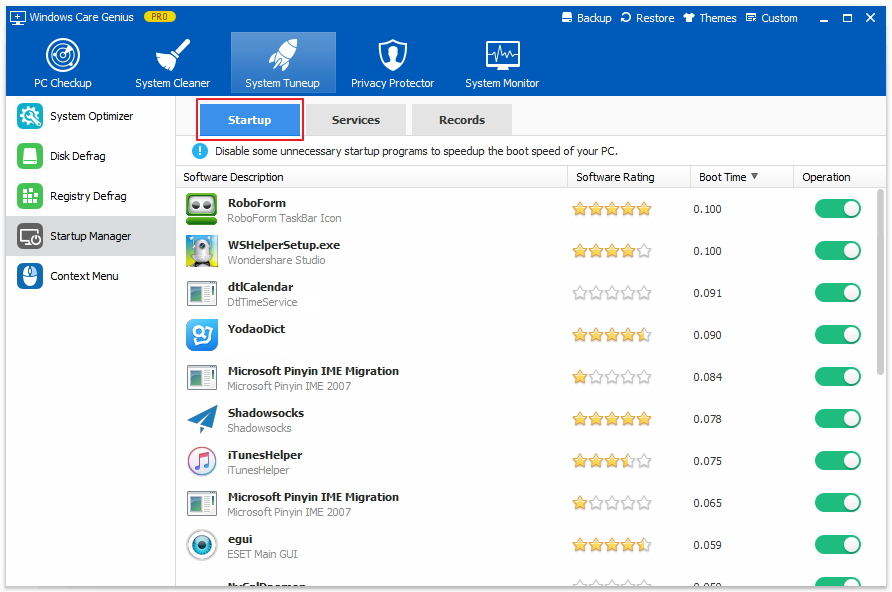 Step 3: Change it to "System Optimizer" and then choose the "Optimize" button to optimize it. After that, your Windows 10 will runs fast.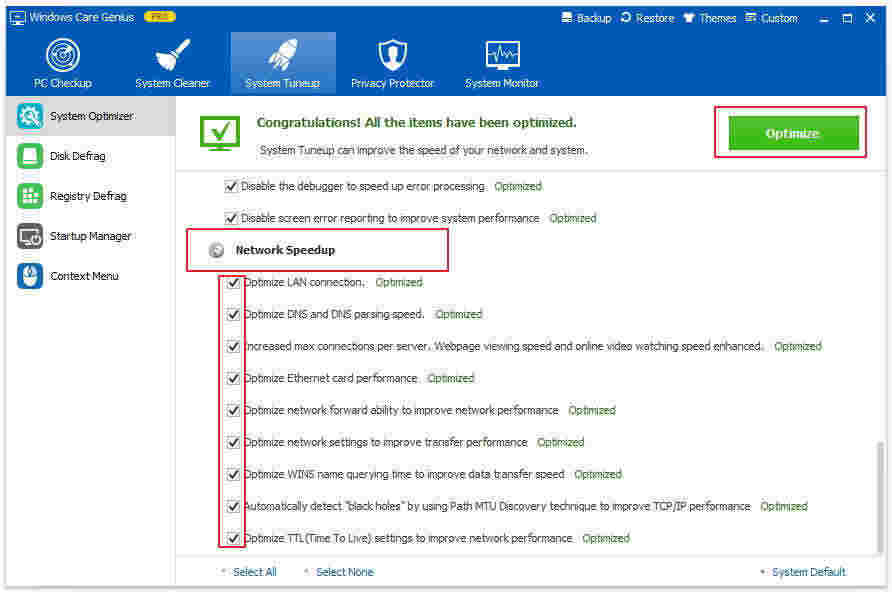 Well, that's so easy, right? Just 2 clicks and then you can speed up your Windows 10 after upgrade!
Method 2: Speed up Windows 10 with Task Manager
How to fix Windows 10 slow boot issues? These are some basic workarounds that will help your PC boot faster. 1. First ensure, that you are running a reputed antivirus solution on your PC. Run a full scan to detect and remove malwares/viruses.2. Open the Task Manager, and click on more details. Then click on the "Startup tab". Observe the items listed there, consider disabling the ones with high impact on the startup time. Do not disable your antivirus or other essential apps.